Hello, Friends! Welcome Back! 
You know, it just dawned on me that I've yet to acknowledge a dear friend of mine who, in turn, has grown to be an inspiration to thousands of drummers, young and old. I'm referring to the one-and-only: Giovanni Hidalgo! 
I first met Giovanni around 1980, when I went to Puerto Rico to perform shows with the Airto Moreira and Flora Purim Band. The band configuration, at that time, had Airto at the helm from the drumset, with me on multiple percussion and Flora featured on most of the vocals. The other members of the band included Jeff Elliot, Kei Akagi, Keith Jones, Larry Nass. 
During what was to be the first night of a week-long engagement at the Teatro Tapia in Old San Juan, friend and fellow drum-brother Angel "Cachete" Maldonado showed up during the sound-check to hang out and catch up on old times. At this moment, he introduced us to somebody he was mentoring on the Bata drums: Giovanni Hidalgo. We all had dinner together, and then, after the show, Cachete took us to a restaurant a couple of blocks away, where we ran into bassist Eddie Gomez, who was also performing in town. We all had something to eat and drink when....don't ask me how, but there were suddenly some more drummers on the scene with congas and Plena drums in hands and ready to jam!  
Frank Colón and Giovanni Hidalgo jammin' with Batacumbele in 1981.
I had my shekere (like the American Express card...I never leave home without it!)... and an electric bass materialized and fell into Eddie's hands...and the jam was on!  The restaurant owner locked the doors, and the sangria began to flow. The music and drumming got more intense, and.... well, let's put it this way; I remember leaving the restaurant way after the sun had come up, feeling tired but enriched and thankful for this unforgettable experience. And, Giovanni, a young teenager at the time, had hung in there with us, just drinking soft drinks and playing drums non-stop all night! 
That series of concerts in San Juan led to Airto's first record album directed towards a Latin fan base. It was a project produced by Frank Ferrer and recorded for a Puertorican label called Tierrazo Records, which came to be titled "Latino: Aqui Se Puede."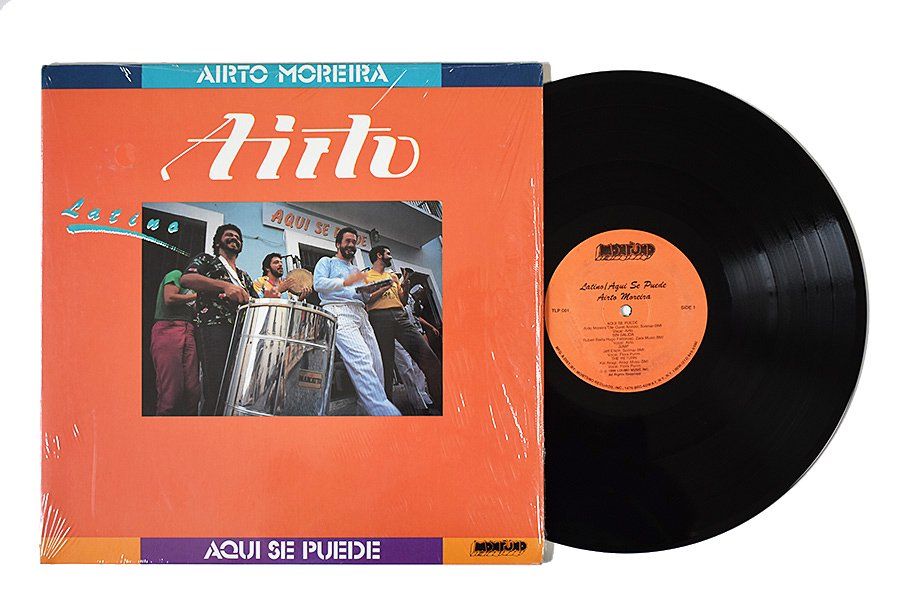 The recording session was done in Los Angeles and included, besides the core members of Airto's band, some other cats such as Roland Baptista (guitarist with Earth, Wind, and Fire), Laudir D'Oliveira (percussionist with Chicago), Frank Colón (Manhattan Transfer), Geni da Silva, Giovanni Hidalgo, Joe Farrell, Jorge Dalto, Oscar Castro Neves, Rafael Jose, Tite Curet Alonso, and Tony Moreno.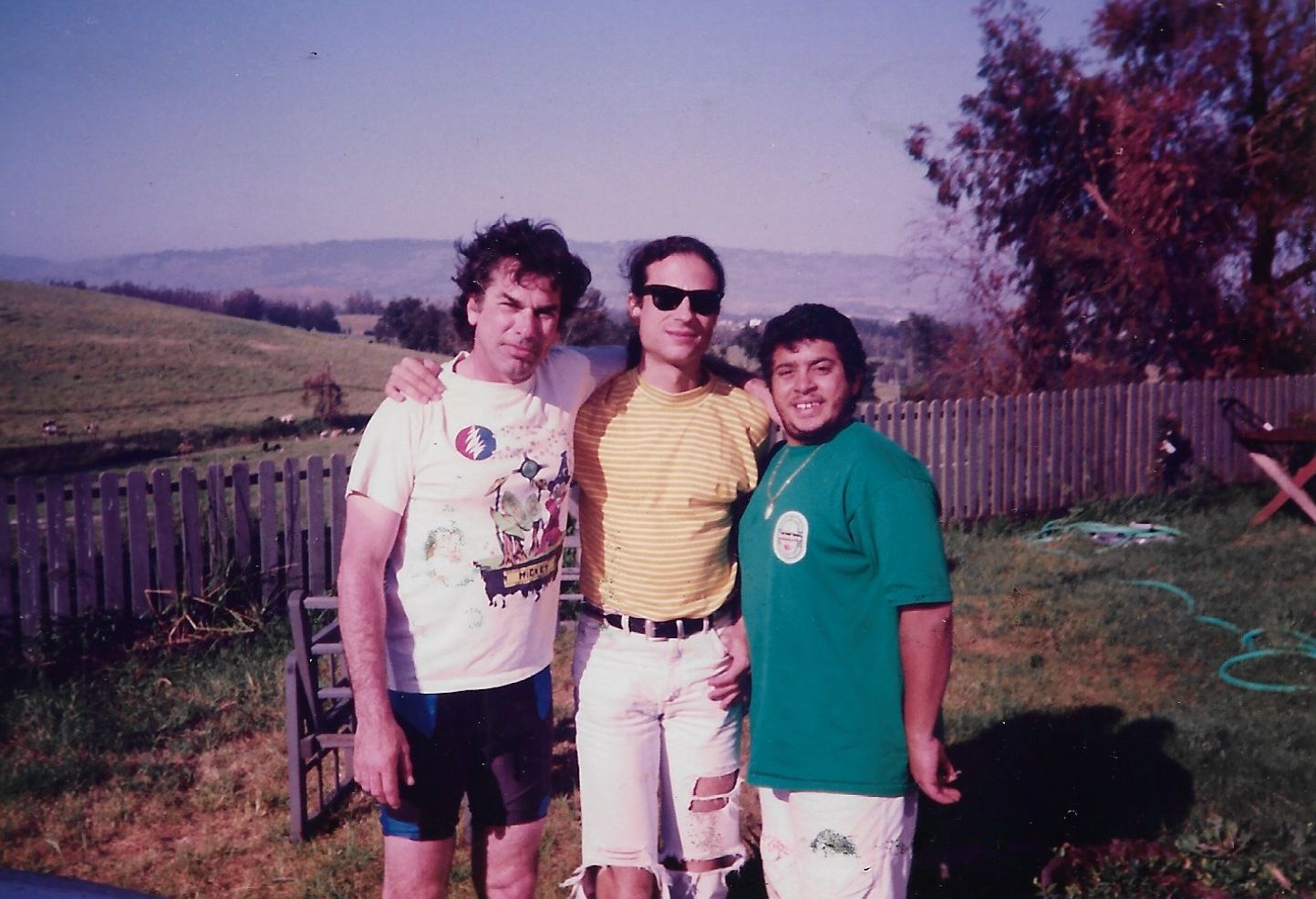 At Mickey Hart's (Grateful Dead) Ranch/Recording Studio in San Anselmo, California.
At the time of this recording, I was impressed with Giovanni and his dedication to his craft. Whenever there was a rest period during the studio recording, we'd notice that Gio would have slipped out, only to be diligently but softly practicing something that, to my eyes, was a different way of handling the conga drums. Friend and colleague Sammy Figueroa used to tell me that when Giovanni stayed with him at his apartment in NYC, he would often wake up in the morning and find Gio already softly practicing on his congas.   
Besides this seminal recording, Airto brought Giovanni and me back together to record his CD, "The Other Side of This," produced by The Grateful Dead's drummer, Mickey Hart.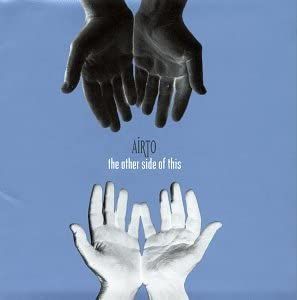 Airto Moreira - The Other Side of This
This CD became very special for me, as I believe it was the first one on which I recorded the sacred Bata drums on popular music...and it also marked my debut as a lead vocalist on a commercial recording!
And, while we were in San Anselmo, CA. recording at Mickey's studio, he took the opportunity to invite me to perform on his Grammy-winning CD, "Planet Drum."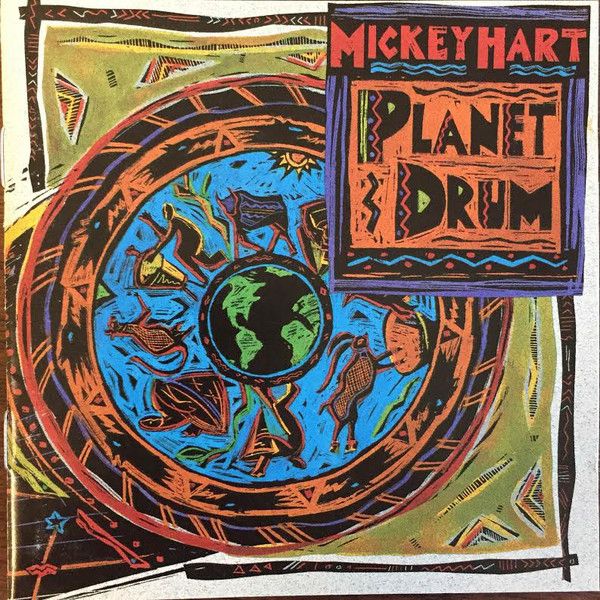 Planet Drum won the Grammy Award for Best World Music Album of 1991!

Planet Drum is a world music album by Mickey Hart, a musician, and musicologist who was a member of the Grateful Dead rock band. 
Hart's concept for Planet Drum was to play drum music with percussionists worldwide and incorporate their different musical styles and traditions into a new global sound. The musicians on the Planet Drum album were from the United States (Hart), India (Zakir Hussain and T.H. "Vikku" Vinayakram), Nigeria (Sikiru Adepoju and Babatunde Olatunji), Brazil (Airto Moreira and his wife, vocalist Flora Purim), and Puerto Rico (Giovanni Hidalgo and Frank Colón). 
Planet Drum won the Grammy Award for Best World Music Album of 1991, the first year the award was given.  
Since then, Giovanni has wholly re-defined the concept of playing conga drums and shows no sign of stopping his forward motion! Today, there may be many young drummers who have studied and learned the techniques that Giovanni has generously demonstrated.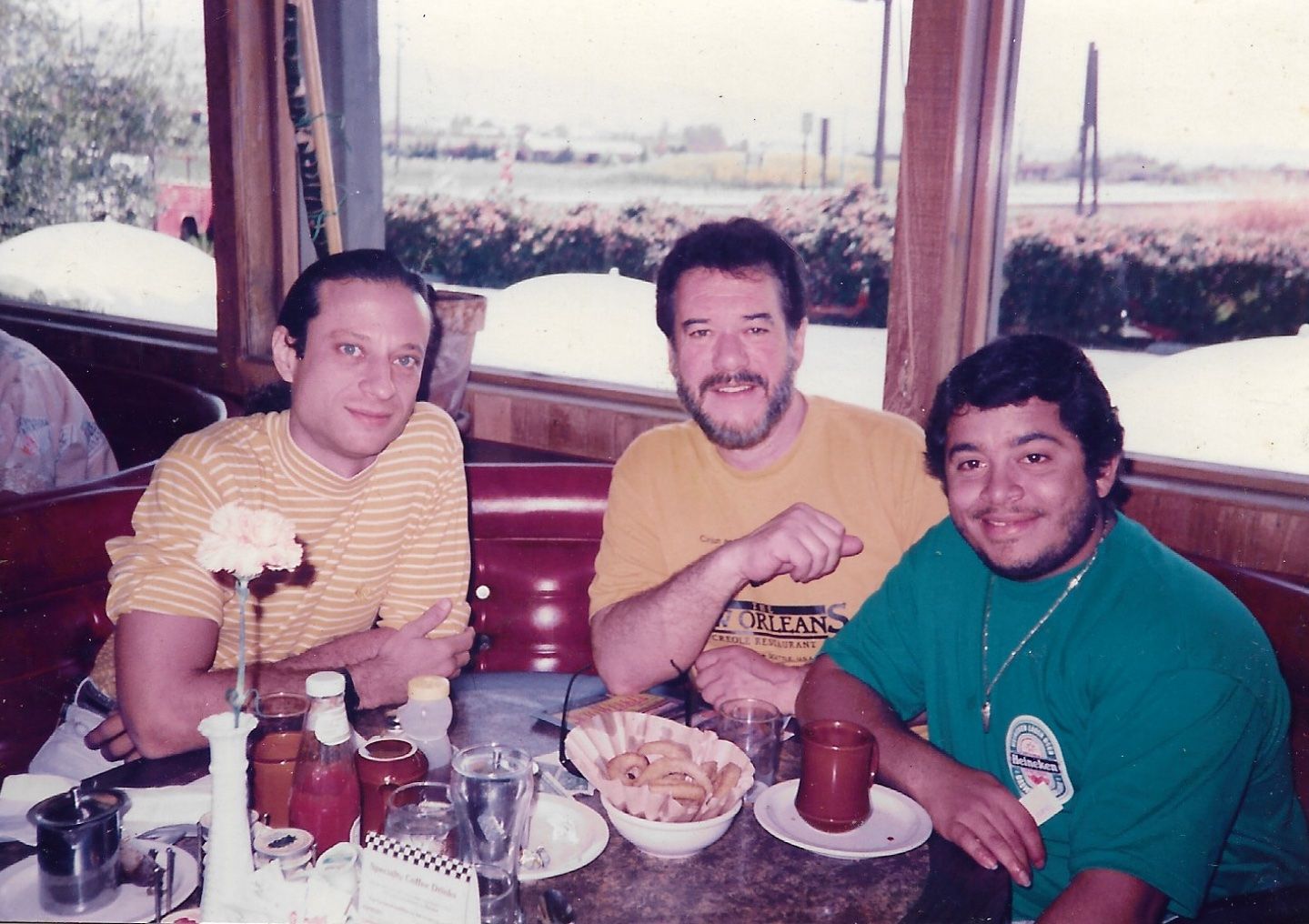 Frank Colón - Airto Moreira - Giobanni Hidalgo
However, none to this day, in my opinion, have been able to perform the ambidextrous double-stroke speed rolls and other modern and progressive techniques with the sophisticated musicality that he so smoothly exudes!
And, besides the unequaled height at which he glides, soaring constantly higher out into space, I have rarely, in all my life, met a more humble and compassionate human being!